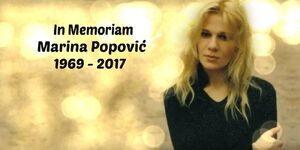 Марина Поповић / Marina Popović (1969 — Belgrade, February 2017) was a Serbian singer and voice actress.
Biography
Марина Поповић / Marina Popović was born in 1969. She has started her career in 1980s, in a Belgrade group called "New York", for which she recorded the album "Дивље дете / Divlje dete" (The Wild Child). After the breakup of the band, she started performing solo in clubs all over Serbia. She worked for dubbing studios Soundlight, Ideogram and Happy TV. She died in February, 2017 in Belgrade. She was buried on March 3, 2017 in Belgrade.
Barbie voice roles
Videos
Community content is available under
CC-BY-SA
unless otherwise noted.